DIET & EXERCISE
Begin with regular aerobic exercise. Increasing circulation and developing aerobic capacity helps feed muscles oxygen and relieves acidosis. Activities like this stabilize blood sugar, reduce high blood pressure and provide "beginner" conditioning.
Fructose (AKA high fructose corn syrup, HFCS) has recently been linked to disorders that cause blood pressure to rise. HFCS is even more tightly associated with obesity and diabetes – each disorders of blood sugar. Both issues take on more weight when associated with Adrenal Stress. Dietary strategies to keep blood pressure and blood sugar under control are essential for healthy brain function.
Much of the controversy tying sodium to high blood pressure may in fact have as much to do with low potassium intake as it does to high sodium. Modern industrial dieting has a much higher ratio of sodium:potassium than whole, fresh foods, like vegetables, fruits, and untreated meats and grains. Eating proportionately higher whole food sources may rebalance the ratio of sodium:potassium and improve both blood sugar and blood pressure.
A low carbohydrate diet helps the adrenally stressed on two levels. It keeps blood sugar more tightly regulated (normoglycemia rather than hyperglycemia) and it helps the body better regulate water. High blood sugar has a natural tendency to stimulate the release of aldosterone when it reaches the kidneys – it's an inherited trait from our caveman ancestors to keep the body from losing essential nutrition while feasting after a length of famine. In today's world, it causes the adrenally stressed to retain water.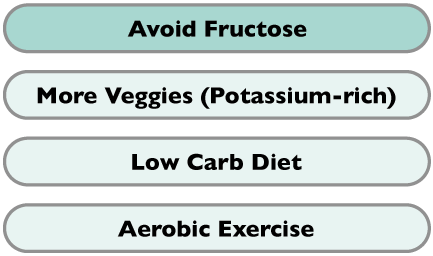 WHAT TO DO NEXT...
For the next month, work with your doctor to formulate a plan to rehabilitate the brain and adrenal function. Then, re-examine this book with a fresh set of eyes. Start from the beginning and answer all of the questions as best you can. If cognitive function improves, you will skip this section and move on to new ground. Perhaps another area that needs work. If not, you will, once again, arrive in this section or one similar to this with as yet unresolved cognitive and adrenal issues. Don't worry! Keep working, and in time you and your doctor will work through this so that you can re-try a month later. Soon enough, you'll be so healthy, this book will no longer be needed.